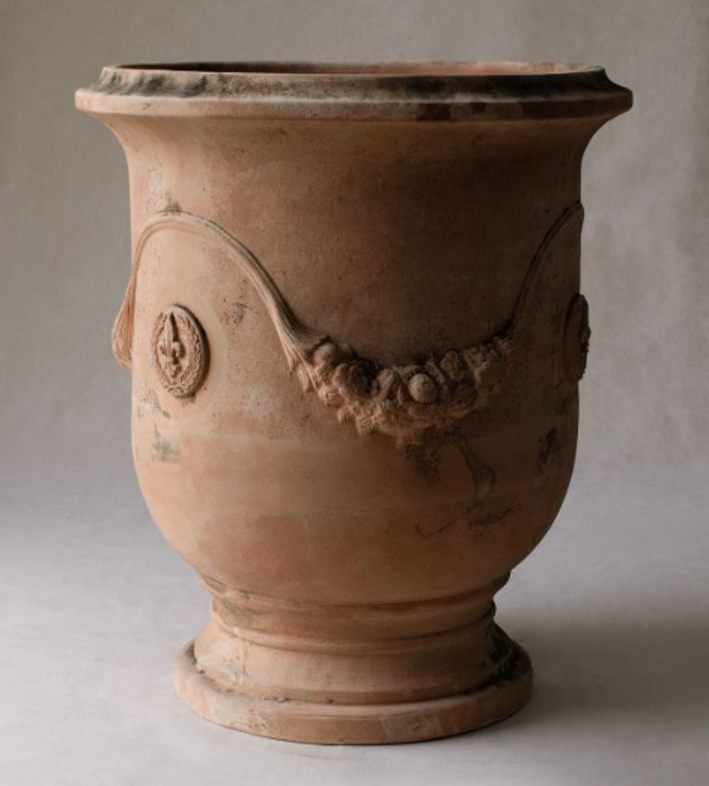 Italian Terrace Planter - 'Francese Festonata'
23" tall, 19.5" outer diameter, 16" inner diameter, contains a drain hole
Italian Terrace pots are handcrafted and take up to six weeks to make.  Fine Tuscan clay is blended to achieve the soft, mellow colour and wonderful, weathered texture.
Winter protection.
Winters vary throughout the country and you are the best judge of when it is necessary to ensure your valuable garden features are protected.  A few tips from us on container care during the winter months:
If you chose to keep pots outside and wish a planted feature in the container, chose a liner that provides a gap of at least 1" between the inner edge of the container to allow for freeze/thaw expansion of the potting soil. Not enough room for freeze/thaw expansion is the main reason why terracotta cracks in the winter.
Pots that are left outside should always be emptied of soil and always raised on pot risers and placed on a paver. They take on a sculptural, quiet look in the winter.
Many of our clients simply move their containers inside adopting the hunkering down mentality to the winter.
We would not let any container become buried in snow. A buried pot is a trip hazard.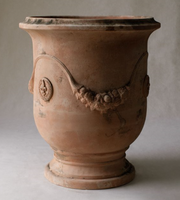 Italian Terrace Planter - 'Francese Festonata'